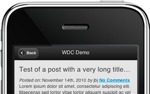 jQuery Mobile is perfect for those who want to make a good looking and easy to read version of their blog and guarantees an optimal ease of reading on mobile devices such as the iPhone, Blackberries or Android. (designed for use with a plugin like WP Mobile Detector)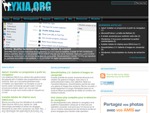 OpenBook is a "magazine" theme with nice features such as column display, news slider and drop-down menu.
Daily Email Newsletters
Weekly Email Newsletters
Subscribe to receive the latest design and creative business news, tutorials, and resources delivered to you via email—either daily (below) or weekly, to your computer, tablet, or mobile phone.

IMPORTANT NOTE: The newsletters and subscription confirmation email will be sent from the address briefing@iampariah.com. Please be sure to whitelist that address in your anti-spam filters. Check your Junk Mail or Spam folder if you miss an email prior to whitelisting briefing@iampariah.com.
Privacy and CAN-SPAM Compliance
All Pariah Burke newsletters comply with the U.S. CAN-SPAM Act. The newsletter even uses a third-party ESP to audit and ensure its compliance with CAN-SPAM. And your privacy is assured: your email address and other information will never be sold or given away.